The team of Professor Zhang Haipeng/Jiang Zhenyou of the School of Basic Medicine and Public Health of Jinan University and the team of Li Kai, a researcher from the Sixth Affiliated Hospital of Sun Yat-sen University, have made new progress in the research of immunotherapy for colorectal cancer. Recently, the results were published in the sub-journal "Cell-Communication" of Cell.
Qi Qi, co-first author of the paper and a professor at the School of Basic Medical Sciences and School of Public Health of Jinan University, said that in recent years, immune checkpoint blockade therapy (ICB) has performed prominently in the treatment of clinical tumors. However, ICB therapy is still ineffective for the majority of colorectal cancer patients, and there is an urgent need to study and establish new strategies to improve the effectiveness of immune checkpoint inhibitors in the treatment of colorectal cancer.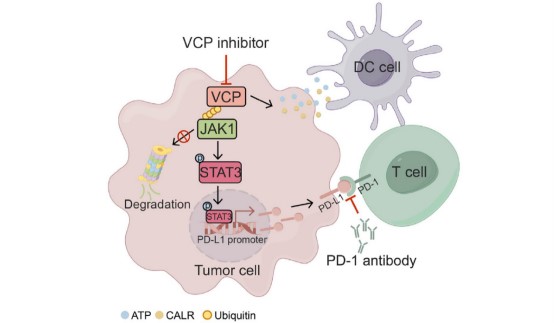 Targeting VCPs enhances the sensitivity of colorectal cancer to ICB therapy. Courtesy of the research team
The tumor immune microenvironment is a key factor influencing ICB therapy. The effectiveness of ICB therapy can be enhanced by creating an immunogenic environment within immunosuppressed or immunodepleted tumors. The study found that small molecule valer-casein-containing protein (VCP) inhibitors reshaped the colorectal cancer immune microenvironment by inducing immunogenic death (ICD) in colorectal cancer cells, transforming "cold tumors" into "hot tumors".
Further studies have found that VCP inhibitors alone can up-regulate the PD-L1 expression of tumor cells and limit subsequent anti-tumor immune responses. The combination of VCP inhibitor and PD-1 antibody has demonstrated excellent anti-tumor effects in multiple in vivo colorectal cancer models. In addition, the use of oncolytic viruses was able to further increase the effectiveness of this combination therapy and induce tumor regression in mice.
Haipeng Zhang, co-corresponding author of the paper, said that the study elucidates the potential mechanism of targeting VCP to enhance the sensitivity of colorectal cancer to ICB therapy, and provides a theoretical basis for exploring the clinical study of VCP inhibitors and oncolytic viruses to promote immune cell recruitment and improve ICB therapy. (Source: Zhu Hanbin, China Science News)
Related Paper Information:https://doi.org/10.1016/j.celrep.2023.113318