A set of aerial photographs shows that the rate of melting of hundreds of glaciers off the coast of Greenland has accelerated dramatically due to global warming, twice as fast this century as in the last century. The study was published Nov. 9 in Nature Climate Change.
A comparison of recent photographs of the Greenland coastline with photographs of the 20th century shows the acceleration of glacier retreat
Greenland has 20,000 peripheral glaciers, spread across valleys and plateaus, independent of its vast ice sheets, many of which are melting faster than even the ice sheets. Glaciers around the world now account for about one-fifth of sea level rise.
Laura Larocca and her colleagues at the University Atmospheric Research Consortium (UCAR) identified the leading edges of 821 glaciers from aerial photographs taken between 1943 and 1987. The oldest of these photographs was taken by US Navy aircraft while surveying Greenland during World War II.
The researchers also identified moraines, a small uplift of rocks and sediments, which indicates the maximum extent of glaciers known as the "Xiaoice Period" around the 14th to 19th centuries. By comparing it to satellite images of ice fronts, they found that between 1890 and 1999, glaciers retreated an average of 7.7 meters per year, while in the last 20 years, glaciers retreated by 14.8 meters per year. This means that the increase in temperatures exceeds the expected increase in snowfall in some areas.
"These accelerated glacier retreats occur throughout Greenland, despite the diversity of Greenland's climatic zones," Larocca said. "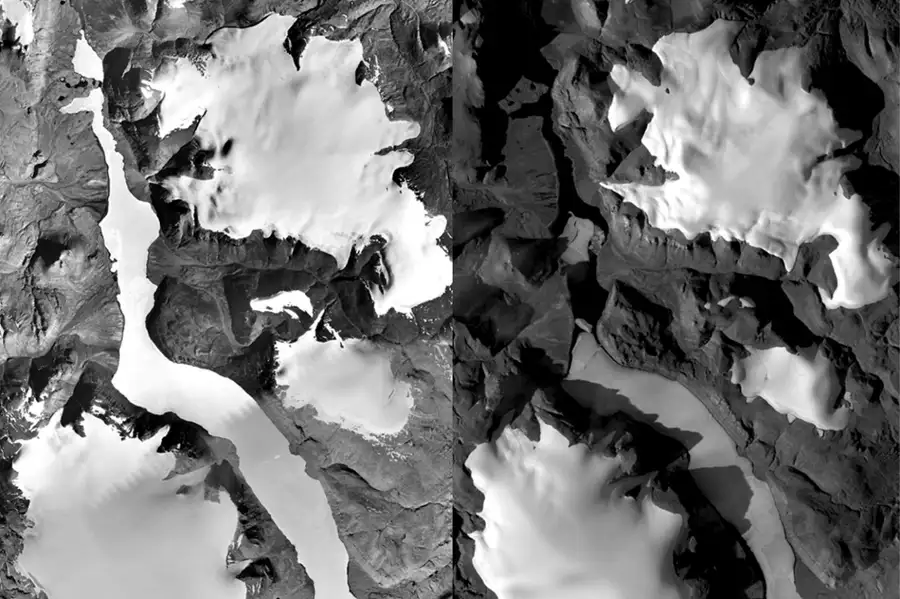 North Greenland glaciers in 1978 (left) and 2022 (right).
Yarrow Axford, a member of the Northwestern University research team, said, "These glaciers are like a little early warning system that can warn us of the impact we will have on the ice sheets, which will cause global sea levels to rise by 20 feet. "
William Colgan of the Geological Survey of Denmark and Greenland said the study was an important step towards understanding how much influence Greenland's glaciers have on global sea level rise, as scientists did not have a good estimate of the decline of Greenland's glaciers before the start of the satellite era in 1979. "Of course, in this study, they only looked at the change in area, not the change in volume, so they also need to look at the change in thickness. Colgan said. (Source: China Science Daily Wang Zhaoyu)
Related Paper Information:https://doi.org/10.1038/s41558-023-01855-6