Swiss scientists used implanted neuroprostheses for targeted spinal epidural stimulation to improve walking and balance in a person with severe movement impairment due to Parkinson's disease. These studies highlight the potential of neuroprosthetic devices for the treatment of movement disorders in patients with Parkinson's disease. The results were recently published in Nature Medicine.
About 90% of patients with advanced Parkinson's disease develop movement disorders, including gait disturbances, balance problems, and frozen gait episodes. These disorders reduce quality of life, increase the severity of associated diseases, and are less effective with available treatments. Targeted epidural electrical stimulation (EES) of the lumbosacral spinal cord can modulate neural activity that controls movement and has recently been shown to restore standing and walking function in people paralyzed by spinal cord injury.
Gregoire Courtine of the Swiss Federal Institute of Technology and Jocelyne Bloch of Lausanne University Hospital have collaborated to develop an EES-based neuroprosthesis that restores the natural activation of leg nerves that are disturbed during walking in patients with Parkinson's disease. After extensive validation of the neuroprosthesis in a non-human primate model, the researchers began the first human trial of the method in a 62-year-old man with Parkinson's disease for 30 years who still had severe movement disorders despite medication and deep brain stimulation.
The investigators first generated a customized anatomical diagram of the spinal cord region targeted by EES to guide the precision surgical implantation of neuroprosthesis. The wireless sensor worn by the patient is then used to detect the intention of movement, triggering the EES to activate the nerve in the leg to produce a natural walking action. The results of the study showed that the neuroprosthesis improved the subject's walking and balance impairments, and he further reported a significant improvement in quality of life (the patient had been using the prosthesis for about 8 hours a day for two years now).
These preliminary results suggest that targeted EES may be a promising treatment option for the treatment of mobility disorders, which are common in patients with Parkinson's disease. However, this is a proof-of-concept study with only one participant, and further studies are needed in larger clinical trials to verify the effectiveness of this approach. (Source: Feng Weiwei, China Science News)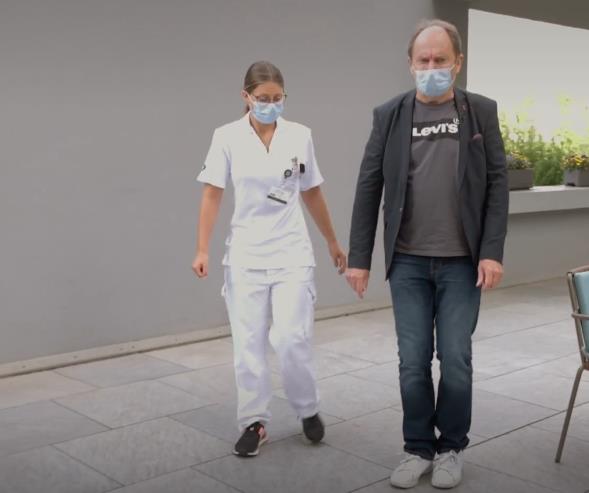 Parkinson's patient Marc was treated with a neuroprosthesis. Courtesy of the author
Related Paper Information:https://doi.org/10.1038/s41591-023-02584-1