On November 17, a research team from the Institute of Atmospheric Physics of the Chinese Academy of Sciences published a news and opinion piece in Advances in Atmospheric Sciences. The article points out that record-breaking wildfires in Canada in 2023 could cause serious global environmental problems.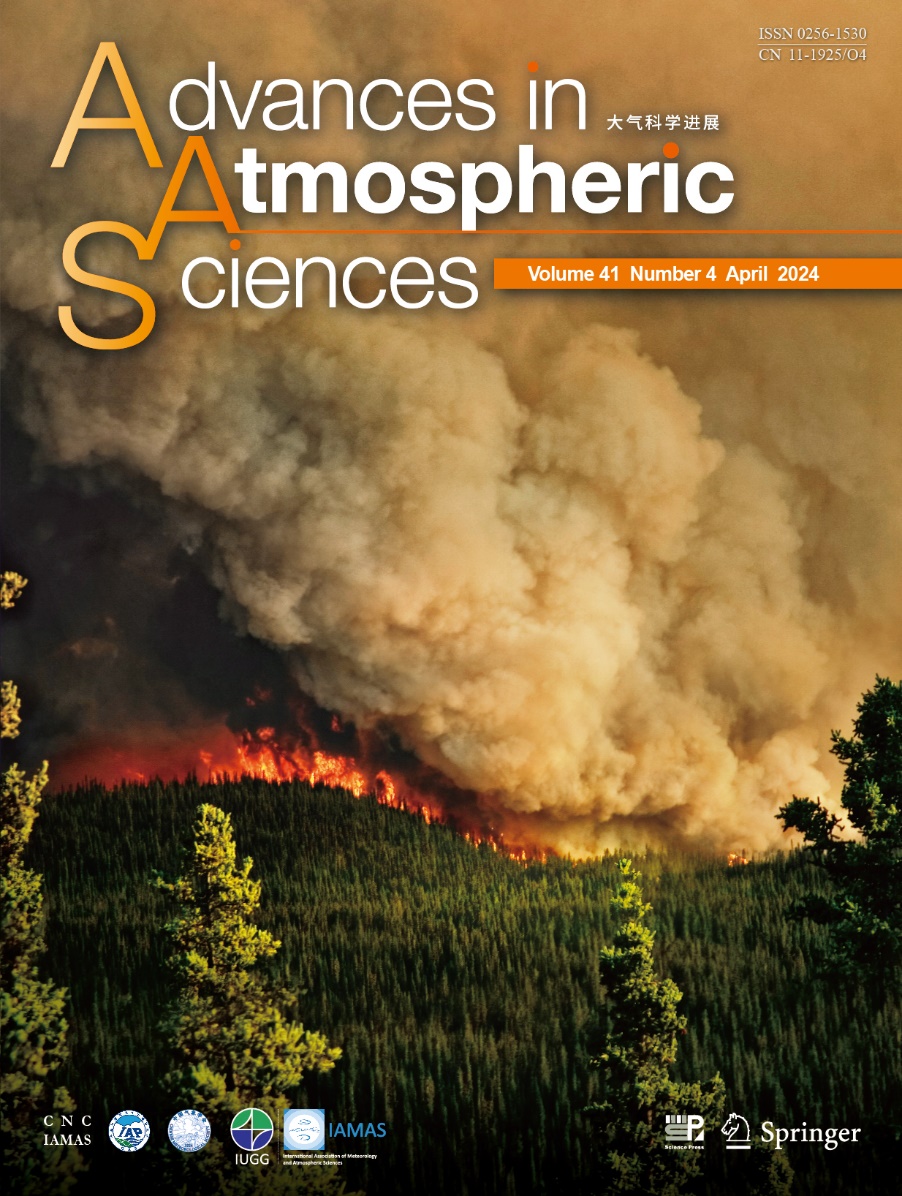 Cover of the fourth issue of Advances in Atmospheric Sciences in 2024 (Photo courtesy of the editorial office of Advances in Atmospheric Sciences)
Since May 2023, there have been persistent wildfires in Canada, and as of August 31, the cumulative area of fires has reached a record-breaking 156,000 square kilometers, more than twice the next largest since data began in 1983, and more than the territorial area of more than half of the world's countries. Wildfires in Canada also release huge amounts of greenhouse gases such as CO2 and air pollutants such as PM2.5, which not only exacerbate climate change, but also cause severe cross-border air pollution through long-distance transmission.
The research team from the Institute of Atmospheric Physics of the Chinese Academy of Sciences analyzed the spatial and temporal distribution of wildfire emissions in Canada in 2023 and simulated the global transport characteristics of PM2.5 and CO2 using the Institute of Aerosol and Atmospheric Chemistry Model (IAP-AACM) of the Earth System Model (CAS-ESM) of the Chinese Academy of Sciences.
Canadian wildfires have been shown to cause significant cross-border air pollution. Wildfire-related PM2.5 can significantly increase the risk of death from all causes, cardiovascular diseases, and respiratory diseases, and its harm is significantly higher than that of PM2.5 produced by human activities such as industry and motor vehicles.
According to Global Fire Assimilation System (GFAS) wildfire emissions data, Canada's wildfires accumulated PM2.5 emissions of up to 10 million tonnes in the four months from May to August 2023, nearly seven times the average for the same period in the past 20 years. The daily emission of PM2.5 fluctuates greatly, with the maximum daily emission reaching 550,000 tons.
The model results show that PM2.5 emitted by wildfires in Canada can affect a wide area of the Northern Hemisphere through long-distance transboundary transport under the action of atmospheric circulation. The largest cross-border impact of wildfire PM2.5 is in the northeastern United States, where concentrations can reach more than 100 μg m-3 (micrograms per cubic meter). Monitoring data also shows that the average daily PM2.5 concentration in New York City reached 148 μg m-3, which is close to 10 times the World Health Organization's (WHO) daily average PM2.5 concentration guideline of 15 μg m-3. Wildfires have led to an increase of up to 2 μg m-3 in PM2.5 in northwestern China. PM2.5 pollution days from wildfires can be up to 40 days a day near source areas in Canada and up to 10 days in the northeastern United States.
At the same time, research shows that carbon emissions from wildfires pose a challenge to climate warming mitigation. From May to August 2023, Canadian wildfires emitted more than 1.30 billion tonnes of CO2 and 140 million tonnes of other greenhouse gases such as CH4 and N2O. According to the Canada 2030 Emission Reduction Plan, the sum of Canada's anthropogenic greenhouse gas emissions from 2021 to 2030 is 720 million tons of CO2 equivalent.
As a result, Canada's four-month greenhouse gas emissions from wildfires are equivalent to twice the cumulative emissions reductions in Canada's 10-year plan, and the frequent occurrence of wildfires will pose a serious challenge to people's efforts to mitigate climate warming. By August 2023, CO2 emissions from wildfires will be transmitted to much of the Northern Hemisphere except Southeast Asia, with average monthly concentrations of more than 0.1 ppm near the surface and up to 30 ppm near the source.
In addition, the scholars pointed out that in addition to the environmental problems caused by the direct emission of greenhouse gases and air pollutants, the smoldering fire of peat soil associated with wildfires and their greenhouse gas emissions, the biophysical climate effects of the burned areas, the aerosol climate effects, the carbon sink effects of terrestrial vegetation, the effects of marine fertilization, the effects of aerosol deposition on the cryosphere, the destruction of the ozone layer, In particular, there is an urgent need to use advanced earth system models to conduct comprehensive research on the interaction between wildfires and the Earth's multispheres.
The first author of the article is Wang Zhe, an associate researcher at the Institute of Atmospheric Physics, Chinese Academy of Sciences, and the corresponding author is Wang Zifa, a researcher at the Institute of Atmospheric Physics, Chinese Academy of Sciences. (Source: China Science Daily Gan Xiao)
Related Paper Information:https://doi.org/10.1007/s00376-023-3241-0