On October 16, David Baker's research group at the Institute of Protein Design at the University of Washington published its latest research paper in Nature Materials, introducing a computational method for accurately designing three-dimensional crystals of proteins through multi-level orthogonal protein-protein interactions. A review of this study was also published in Nature Materials at the same time.
"Protein crystallization has always relied on a lot of experimental work and chance, and this paper report shows the possibility of precisely designing completely new protein three-dimensional crystals from scratch. Dr. Li Zhe, the first author of the paper, said in an interview with China Science News.
"These de novo protein crystals will create new possibilities in biomedicine, sensing detection, chemical separation, and more as a new biomaterial encoding three-dimensional self-assembly information in a one-dimensional sequence." Dr. Wang Shunzhi, co-first author of the paper, said in an interview with China Science News.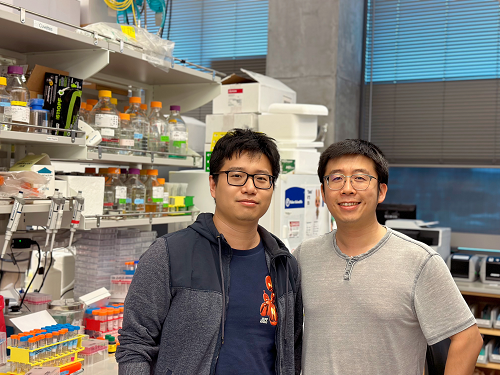 Photo courtesy of Li Zhe (left) and Wang Shunzhi (right).
They designed three new protein three-dimensional crystals, including diamond and body-centered cube symmetry. When two designed protein polymers are mixed in solution, they self-assemble into polyhedral nanocages step by step and further assemble into three-dimensional crystals through the interaction of the design. The crystal structure characterized by X-ray diffraction is highly consistent with the results of the computational design with a degree of accuracy at the atomic level.
De novo protein three-dimensional crystals have many special properties. They have a high solvent ratio (>80%), outstanding thermal stability (autoclavable), self-assembly in cell lysate, and fine tuning of unit cell parameters through further design. In addition, these crystals are further used as structural scaffolds to prepare three-dimensional superlattices of gold nanoparticles, and their dynamic and controllable optical properties are expected to be applied to optical instruments. (Source: Zhang Qingdan, China Science News)
Related paper information:https://doi.org/10.1038/s41563-023-01683-1