Recently, the team of Professor Zhao Yuzheng of the School of Pharmacy of East China University of Science and Technology and the team of Zheng Junke, a researcher at the School of Medicine of Shanghai Jiao Tong University, published a review article in Trends in Cell Biology, which comprehensively sorted, summarized and prospected the pathological mechanism of redox metabolism regulating the occurrence and development of leukemia and the current key problems.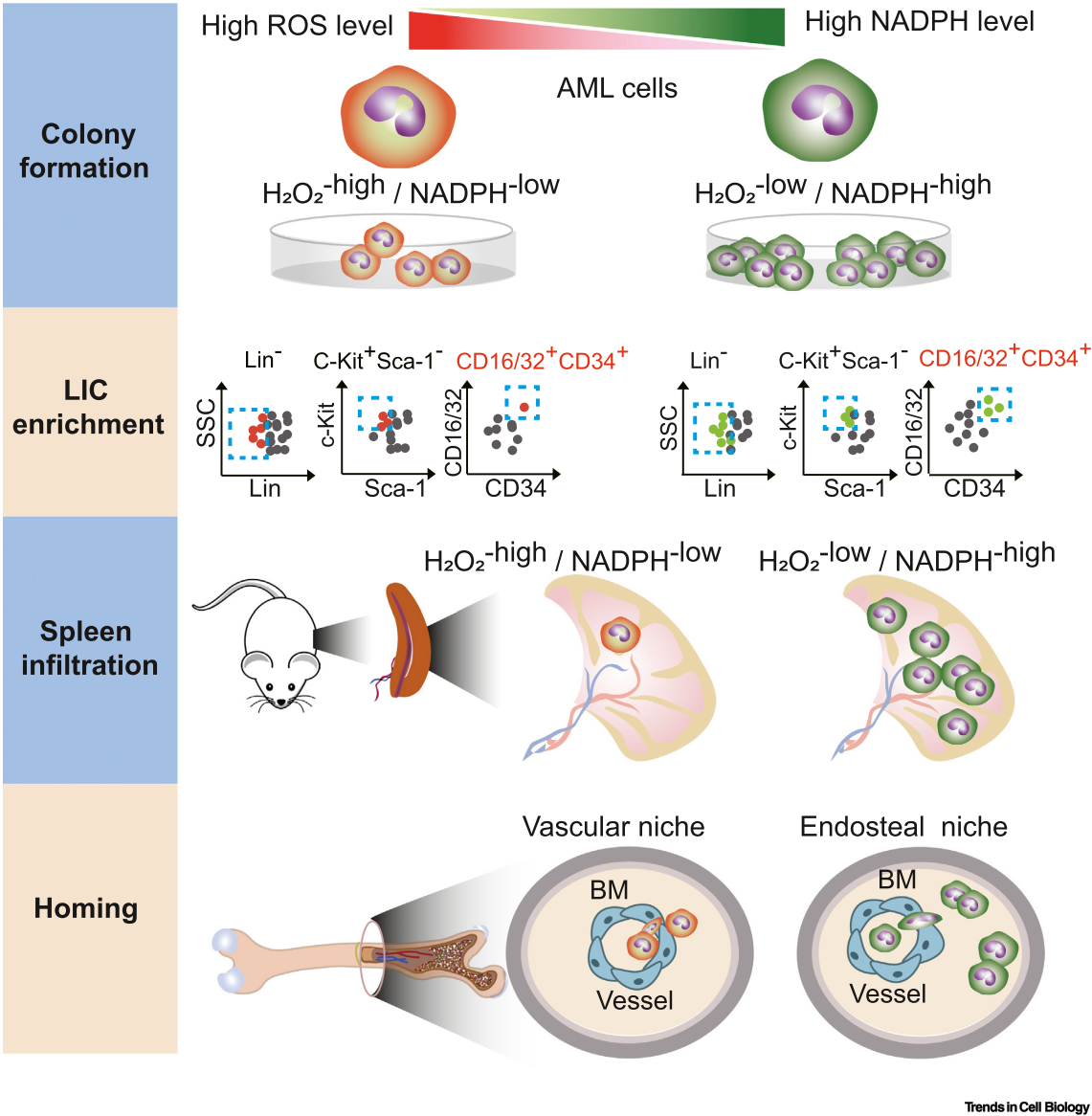 Low reactive oxygen species and high reducing power promote the occurrence and development of acute leukemia. Courtesy of Hua Institute of Technology
Redox metabolism is an important class of biochemical reactions, which not only drives the metabolism of energy and substances, but also determines the redox state of cells, which is crucial for the survival, proliferation, and differentiation of cells. Redox metabolism plays an important role in the occurrence and development of leukemia, and compared with solid tumors, leukemia cells have an innate ability to migrate and survive in the circulatory immune system, thereby enhancing their resistance to oxidative stress and apoptosis during metastasis. At the same time, leukemia cells have evolved significant metabolic heterogeneity to respond to the challenges posed by different nutrient and oxygen supply conditions in the bone marrow, blood, or spleen tissue. In order to further study the regulatory mechanism of redox metabolism in leukemia, there is an urgent need to innovate and develop metabolic monitoring technologies suitable for single-cell and in vivo. Genetically encoded fluorescent probes for spatiotemporally resolved metabolic monitoring are ideal tools to address this challenge. Over the past decade, the research team has developed a series of high-performance fluorescent probes for cellular metabolism and live-cell metabolism monitoring technology, and applied this cutting-edge technology to systematically study the pathogenic mechanism of leukemia in redox metabolism.
Low levels of reactive oxygen species are essential for the survival and maintenance of resting cells at the beginning of leukemia. Using a self-developed hydrogen peroxide probe, the research team demonstrated that the subset of low-reactive oxygen species and high-reducing cells are rich in more functional acute myeloid leukemia initiating cells, which tend to localize in the endosteal microenvironment, resulting in faster onset of leukemia and shorter overall survival time after transplantation. Malate, as well as methylenetetrahydrofolate dehydrogenase, are essential for the leukemia-forming ability of this group of cells. In addition to acute myeloid leukemia, low reactive oxygen species and high reducing power are also closely related to the occurrence and development of acute or chronic lymphocytic leukemia.
Leukemia cells show heterogeneity in energy and substance metabolism. In general, oxidative phosphorylation is essential for energy production and in many cases is fueled by pyruvate, fatty acids, glutamine, and branched-chain amino acids. In acute myeloid and lymphocytic leukemia, inhibition of mitochondrial respiration can relieve resistance to chemotherapy drugs such as cytarabine, of which pyruvate dehydrogenase is a potential therapeutic target. In addition to oxidative phosphorylation, high glycolytic activity also supports the development of leukemia. For fatty acid metabolism, both the breakdown and synthesis pathways drive the occurrence of leukemia. In addition, abnormal metabolism of amino acids and isocitrate plays a role in promoting the occurrence of leukemia by altering the mechanisms of nucleotide and fatty acid synthesis and epigenetic modification. These metabolic pathways are closely linked, and in leukemia, inhibition of glucose oxidation often compensates for an increase in fatty acid oxidation and vice versa. The choice of substrate between glucose/pyruvate and fatty acids determines not only the efficiency of energy production, but also the level of reactive oxygen species.
Although important progress has been made in the study of metabolic reprogramming of leukemia, the pathogenic mechanism of leukemia is highly complex due to the interaction of cellular metabolism, genetic variation, and bone marrow microenvironment, and the basic and translational research of leukemia still faces some important unsolved problems. (Source: China Science News Zhang Shuanghu)
Related Paper Information:https://doi.org/10.1016/j.tcb.2023.10.001