Recently, the team of Qing Guangyan, a researcher at the Dalian Institute of Chemical Physics, Chinese Academy of Sciences, developed a positively charged self-assembled metal-organic framework (MOF) nanoparticle monolayer (SAMM) membrane. On the premise of ensuring the integrity of the membrane, the functionalization modification of SAMM is realized, and it is confirmed that it has good application potential in the field of osmotic power generation. The results were published in Advanced Functional Materials.
Under the background of continuous consumption of fossil fuels and increasing energy demand, the development of environmentally friendly renewable energy has become a research hotspot. At the junction of oceans and rivers, osmotic energy generated through salinity gradients is a stable and sustainable blue energy source that is typically collected using reverse electrodialysis techniques. However, the ion exchange membranes used in this technology have the disadvantages of poor ion selectivity, insufficient mass transfer, and large membrane resistance, which hinder their application in the field of osmotic power generation. Therefore, new ion-selective membranes need to be developed to enable efficient permeation energy collection.
In the preliminary work, the team developed a cellulose nanocrystalline self-assembly composite membrane doped with polyvinyl alcohol and graphene oxide, and proposed an economical and sustainable material preparation strategy for efficient permeation energy conversion.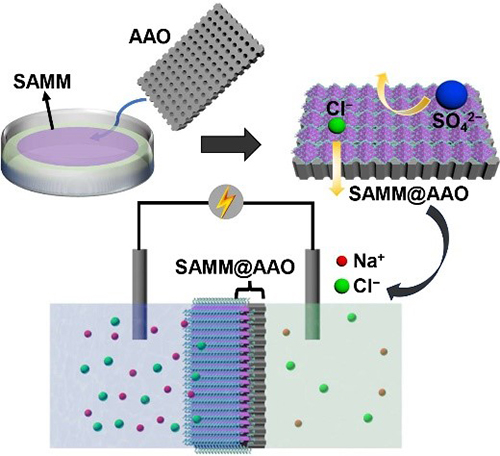 In this work, the team uses polygrafted UiO-66-NH2 nanoparticles to self-assemble at the water-air interface to form a dense positively charged MOF nanoparticle monolayer film with an area of up to 3cm, and transfer it to the surface of the porous anodized aluminum film to form a heterogeneous film. Subsequently, the team further increased the maximum power density of the heterogeneous membrane to 10.5 W/m2 by methylation of the imidazole molecule on the MOF surface.
In addition, by changing the type of MOF material or functional group grafted on the surface of MOF, the team can prepare other charged SAMM membranes, which will enrich the types of ion-selective membranes and provide new ideas for the preparation of materials with high ionic selectivity and high permeability energy collection performance. (Source: Sun Danning, China Science News)
Related paper information:https://doi.org/10.1002/adfm.202307996