The team of Professor Liu Zhuowei of Sun Yat-sen University Cancer Center and collaborators proposed and verified the SAVE scoring system, a quantitative scoring tool for testicle-sparing surgery, to simplify the preoperative evaluation of testicle-sparing surgery in patients with testicular tumors, and make the accurate diagnosis and treatment of testicular tumor patients more objective and feasible. Recently, the results were published in the International Journal of Surgery.
Testicle-sparing surgery is one of the safe and feasible means to treat benign testicular tumors. However, there is a lack of uniform and objective criteria for the evaluation of indications for testicle-sparing surgery, in part due to the lack of an evaluation system that describes the anatomical features of testicular tumors.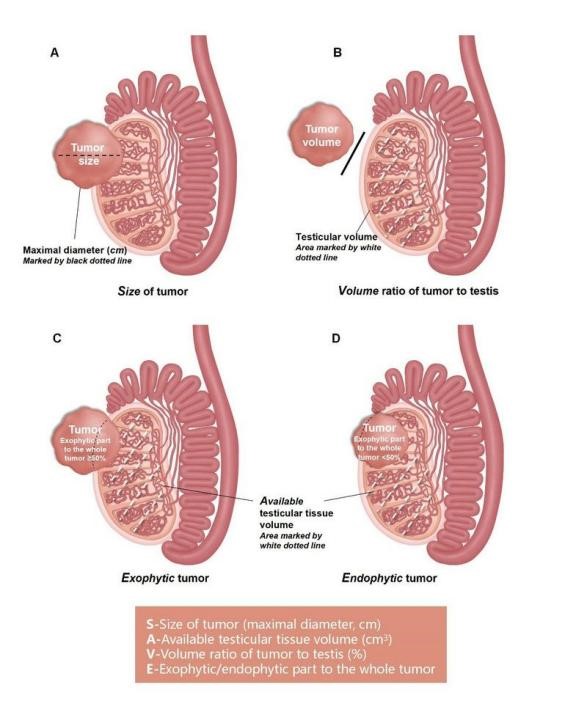 SAVE retains a pattern diagram of the testicular scoring model. Courtesy of the research team
The SAVE scoring system proposed in this study is used to evaluate the feasibility of testicle-sparing surgery. It is based on four key and simple anatomical features of testicular tumors: tumor size (S), normal tissue volume of the testis (A), tumor-to-testis volume ratio (V), and exogenous/endogenous nature of the tumor (E). A multiple logistic regression model was established to analyze the relationship between the anatomical characteristics of testicular tumors and the surgical method, and was validated in the model group and the validation group. The classification efficiency of SAVE was evaluated by using receiver operating characteristic curves and other methods.
The researchers included 444 patients with testicular tumors from 8 large medical centers in Beijing, Shanghai, Guangzhou, Shenzhen, and Hangzhou, and retrospectively collected clinical, pathological, imaging, and follow-up data. The SAVE score ranges from 0 ~ 8 points, and is divided into four risk levels: low, medium, high, and very high to evaluate the feasibility of testicle-sparing surgery.
In order to facilitate the clinical application of the SAVE score, the investigators designed the decision sequence of the SAVE score to screen out cases that require further evaluation of surgical feasibility. The research team further designed a mini-program for the SAVE score, which automatically calculates the SAVE score by inputting tumor size, exophytic/endophytic, length/width/height, and age parameters.
"Our study found that the SAVE testicular retention scoring system accurately assesses the feasibility of testicle-sparing surgery for benign testicular tumors. Liu Zhuowei, co-corresponding author of the paper, said that the study can help patients with testicular tumors undergo pre-testicular pre-preservation evaluation, and provide objective evaluation criteria for the accurate diagnosis and treatment of patients with benign testicular tumors and small testicular tumors. (Source: China Science News, Zhu Hanbin, Zhao Xianting)
Related Paper Information:https://doi.org/10.1097/JS9.0000000000000752