Recently, the team of Professor Zha Zhengang and Associate Professor Zhang Huantian of the Department of Orthopedics and Joints of the First Affiliated Hospital of Jinan University (Guangzhou Overseas Chinese Hospital) and Professor Zhang Ronghua of the School of Pharmacy of Jinan University have made new progress in the research of new targets for two-way regulation in the prevention and treatment of osteoporosis. Recently, the results were published online in Bone Research.
Ronghua Zhang, the corresponding author of the paper, said that the study further revealed that tridomain protein 21 (Trim21) is a new target for two-way regulation of osteoporosis prevention and treatment by using full/conditional gene knockout mice, cell and molecular biology, which provides a new clue for the research of osteogenesis/osteoclasty dual-targeted drugs, and a new paradigm for the research of bone degenerative diseases.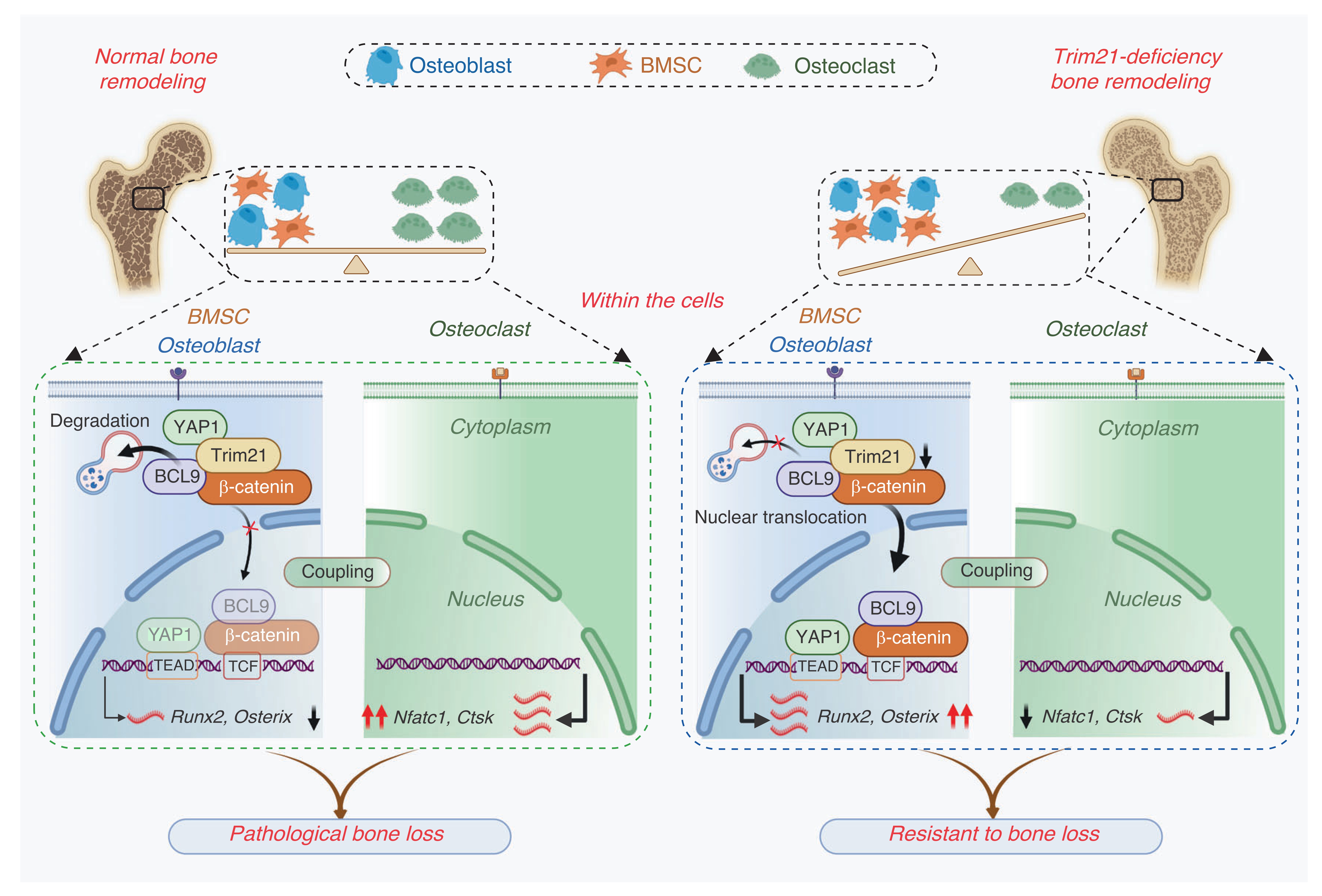 Trim21 is a new target for bidirectional regulation in the prevention and treatment of osteoporosis. Courtesy of the research team
Osteoporosis is a systemic bone disease characterized by decreased bone mass and destruction of bone tissue microstructure, resulting in increased bone fragility and metabolic bone disease prone to fractures. At present, the drugs for the prevention and treatment of osteoporosis in clinical practice mainly include bone resorption inhibitors such as bisphosphonates, RANKL monoclonal antibodies and calcitonin, and bone formation promoters such as parathyroid hormone analogues.
In recent years, the research and development of dual (osteogenesis-osteoclast) action drugs has attracted more and more attention, and in response to this clinical problem, the corresponding author of the paper, Zhengang Zha believes that the identification of dual-targeted therapies that inhibit osteoclasty and promote osteogenesis has important clinical significance for the prevention and treatment of osteoporosis.
In this study, it was first found that the expression level of Trim21 was significantly increased in the bone samples of osteoporosis patients and mice, and further confirmed that Trim21 plays a key role in regulating osteogenesis and osteoclast differentiation by constructing all/conditional knockout mice and using primary cell/osteoblast and monocyte cell line co-culture models, and proteomics systematically revealed that Trim21 regulates YAP1/ β-catenin signaling affects bone mass and is involved in lipopolysaccharide-induced inflammatory bone loss and ovarian castration-induced osteoporosis progression.
"This study clarifies that Trim21 is a new target for bidirectional regulation affecting osteogenesis/osteoclast, providing new clues for the treatment of osteoporosis and osteoporotic fractures. At the end of the paper, the corresponding author Zhang also said. (Source: Zhu Hanbin, China Science News)
Related Paper Information:https://doi.org/10.1038/s41413-023-00296-3